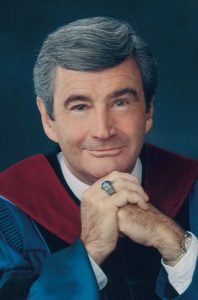 Dr. D. James Kennedy  entered the presence of his Savior, Jesus Christ, on September 5, 2007. He served for 47 years as Senior Minister of Coral Ridge Presbyterian Church in Fort Lauderdale, Florida, which for 15 years was the fastest growing Presbyterian Church in America. In 2005, Dr. Kennedy was inducted into the National Religious Broadcasters Hall of Fame. He founded four ministries: Evangelism Explosion International, Coral Ridge Ministries, Knox Theological Seminary, and Westminster Academy.
Dr. Kennedy is the author of more than 65 books, including Evangelism Explosion, What If Jesus Had Never Been Born?, and Lord of All. He earned a Bachelor of Arts from the University of Tampa, a Master of Divinity from Columbia Theological Seminary, a Master of Theology from Chicago Graduate School of Theology, and a Ph.D. from New York University.
He is survived by his wife of 51 years, Mrs. Anne Kennedy, and his daughter, Mrs. Jennifer Kennedy Cassidy.